Fifty Shades Darker Soundtrack Hits Number 1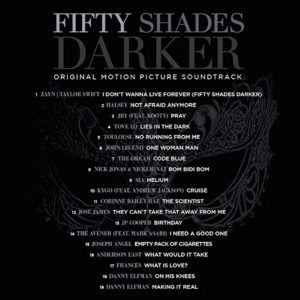 Rolling Stone is reporting The Fifty Shades Darker soundtrack made it to the number 1 spot on the Billboard 200 chart this week.
Even though the film itself didn't top the box office sales, the soundtrack featuring songs from John Legend, Sia, Zayn & Taylor Swift was the most popular in sales.
Other soundtracks in the Top 10 include Trolls (with Justin Timberlake, Ariana Grande, Gwen Stefani, Anna Kendrick) at number 7 and La La Land (with John Legend, Ryan Gosling, Emma Stone) at number 10.