Backstreet's Back In Las Vegas!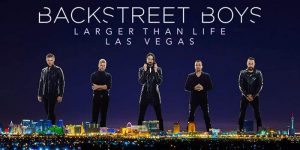 Backstreet's Back, Alright! The Backstreet Boys kicked off their Larger Than Life Las Vegas residency this week at the AXIS Theater in Planet Hollywood.
Howie, Kevin, Brian, Nick, and AJ performed a 20-song set packed with hits including, "I Want It That Way," "Everybody" and "Larger than Life."  Reports from fans in attendance say their voices sounded strong and the dancing was smooth and synchronized.
Here's the entire set list:
"Larger Than Life"
"I'll Be The One"
"Get Down"
"Every Time I Close My Eyes"
"Incomplete"
"Quit Playing Games With My Heart"
"Show Me the Meaning of Being Lonely"
"I'll Never Break Your Heart"
"Anywhere for You"
"Darlin'"
"Back To Your Heart"
"As Long As You Love Me"
"The Call"
"We've Got It Goin' On"
"Get Another Boyfriend"
"More Than That"
"All I Have To Give"
"Shape Of My Heart"
"I Want It That Way"
"Everybody"
If you're a BSB fan and happen to be visiting Vegas, try to check out the show!