Woman with Down syndrome retiring from job after 32 years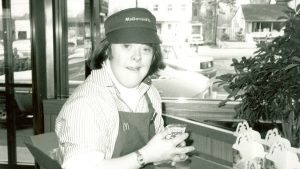 NEEDHAM, Mass. – After 32 years, a woman will retire from working at the McDonald's in Needham, Massachusetts.
Freia David, who has Down syndrome, has worked at the Chestnut Street McDonald's since 1984.
She has worked at the fry station over the years and got the job through Charles River Center. The nonprofit provides employment and job training for adults and children with developmental disabilities.
On Monday, August 29th from 10am to 1pm McDonald's is holding a party in honor of Miss David, celebrating her years of work and dedication to the job.  Please help us in congratulating Freia on her amazing career.