Wine Infused Coffee Is A Thing Now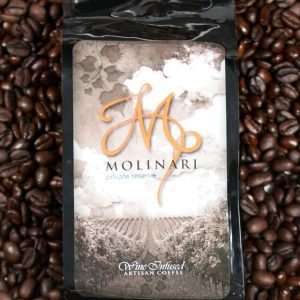 As far as beverages go, wine and coffee are definitely two of our favorites. And all this time, we thought coffee was for morning and wine was for evenings. But it turns out, we can have the best of both worlds at the same time now, thanks to the brilliant minds at Molinari Private Reserve.
They roasted coffee beans with wine and created a wine-infused blend that's supposed to smell like wine but tastes like coffee with a bit of blueberry. And according to their website, the more milk you add to it, the more this brew tastes like wine.
Not a fan of hot coffee? You can chill it and serve it on cold for a wine-infused iced coffee. You can even drink it in the morning or at work, because the wine-infused coffee beans make an alcohol-free, full-bodied cup of coffee – so you can sip anytime without worry about getting tipsy.
You can order the beans online for $20 a bag, but it is so popular, they are selling out fast!  If you're lucky enough to be near Napa Valley, you can get it at many local shops.
Cheers!