Biz Markie – Lucky Charms Marshmallow Only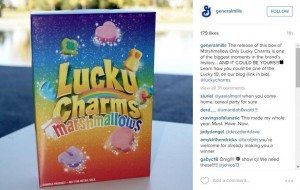 It's happening! General Mills is releasing marshmallow-only Lucky Charms, but there's a catch.
The company wrote on its website that the Lucky Charms team "receives countless calls, e-mails, tweets and Facebook posts from marshmallow-obsessed fans longing for a box filled with only the magically-delicious marshmallows."
Now, they are making dreams come true — for 10 lucky fans.  To win, share a photo of yourself holding an imaginary box of Lucky Charms on Facebook,  Twitter or Instagram by October 18 with the Hashtag #Lucky10Sweepstakes.
Check out the video from Biz Markie… with his "Just A Friend" re-make.