Dan Aykroyd Threatens To Sue Maker Of Hot Sauce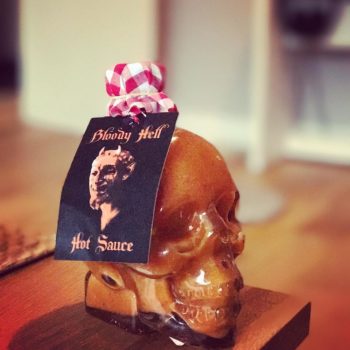 Robert and Rose Powers have managed to anger Dan Aykroyd.  The couple owns a company called Bloody Hell Hot Sauce.
Unfortunately for them, the bottle they use looks very similar to the one Dan uses for his brand of Crystal Head Vodka.
The Powers actually reached out to Aykroyd to discuss a Bloody Mary collaboration.  Sadly, when he saw their packaging, he sent them a letter threatening to sue them for the bottle design. He not only wants the to stop using it, but to destroy their entire stock on the basis of trademark infringement.
Crystal Head Vodka has made over $55 million dollars in the last 4 years.  Bloody Hell is only sold in food shops across the United Kingdom.  The Powers started their family-run business 3 years ago and still make their product in their mother-in-law's kitchen.
The New York Daily News reports The Powers' attorney thinks that if a suit is filed, his clients can win.  So far they are getting some free publicity for their hot sauce.  I know I'd like to try some!
Check out the bottles below and let us know what you think.  Do they look too similar?
Image courtesy of @bloodyhellhotsauce